Souvenir Hunting in Tokyo Combines the Best of Business and Leisure
The perfect gift can be the key to business success, so it always pays to reserve time for shopping when traveling for work. Luckily, in history-rich Tokyo, souvenir hunting quickly becomes an adventure, turning business and leisure into a single experience: "bleisure." Try it yourself at Nihonbashi's Edo-ya, which has been making hake brushes since 1718, or Ginza's Jugetsudo, a purveyor of nori seaweed and matcha green tea for over 160 years.
Produced by


Time-pressed bleisure travellers who have to juggle meetings and conferences with time to relax and explore need to look no further than Tokyo's main commercial areas to find something special—such as generation's old craft stores selling unique gift items.
Behind the counter at Edo-ya Corporation, which is located in Nihonbashi, one of Tokyo's central business districts, stands Katsutoshi Hamada, its 12th generation owner. Right next to Mr. Hamada is his son, who is set to be Edo-ya's next master, it's 13th.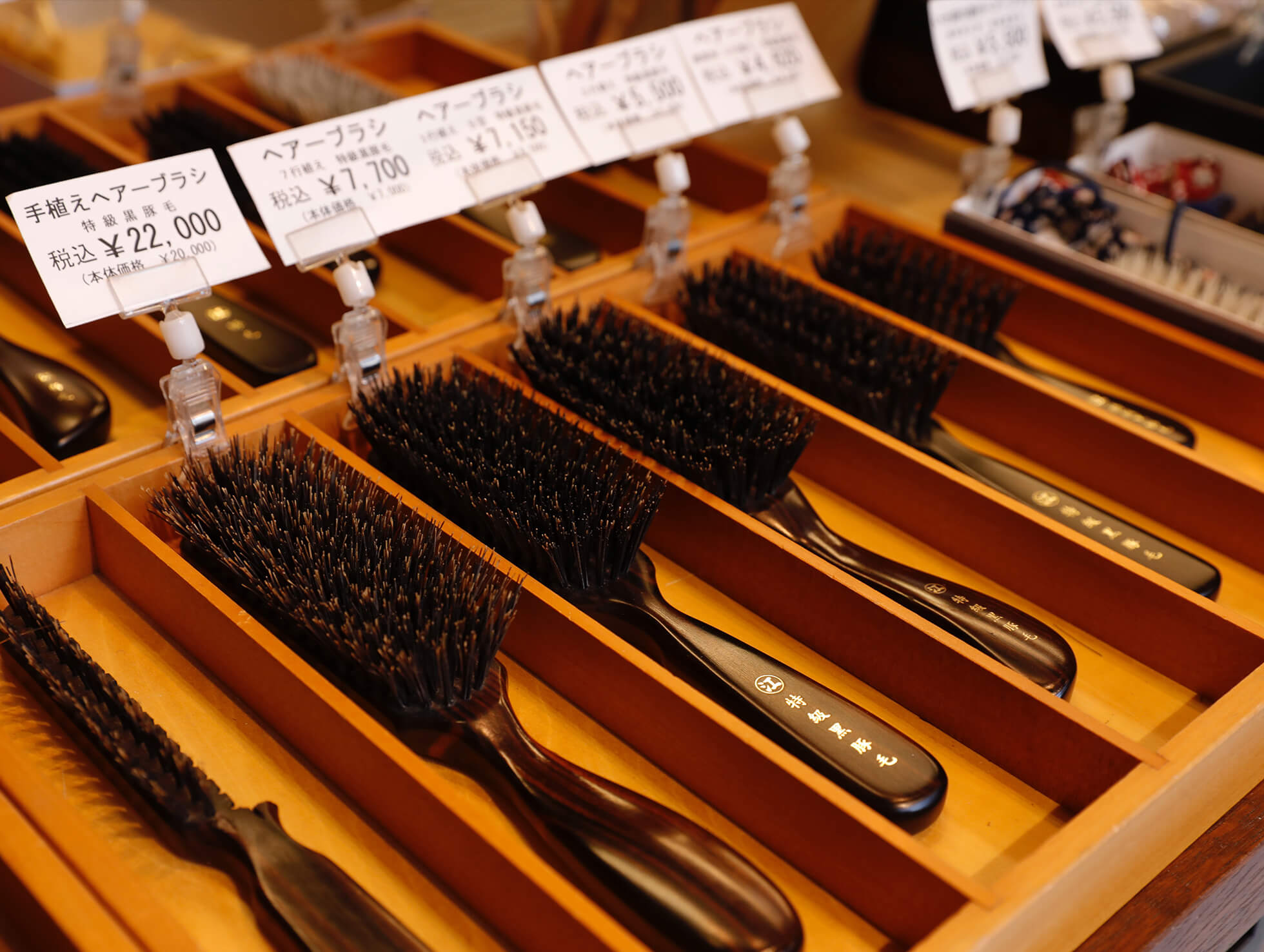 The Hamada family has been making hake (brushes) of all kinds since 1718, 302 years ago, Hamada the elder explains. A family of craftsmen, they make hake for everyday use: for applying make-up, brushing hair, painting dolls and ukiyo-e art, and dusting down horses. In the past, women in the Shogun's inner-most court used their brushes to apply make-up.
Later, their brushes would be called Edo-hake. But it was in the Meiji period (1869 to 1912), when foreign ships started visiting Japan, that they received, for the first time, orders for brushers for ship decks and western clothing—including western-style coats.
Today, Edo-ya produces over 3000 kinds of brushes. The family is very particular about the quality of their hand-made products, going to great length to ensure its quality, and that their artisanal skills, which take 10 years to master, endure for generations to come.

Tucked away in a modern building in the Ginza business district is Jugetsudo Tea Shop and Cafe. Owned by Maruyama Nori Co., Ltd., the shop has sold nori (seaweed) and matcha (green tea) under the Jugetsudo brand since 1854.
Jugetsudo, which translates to "the place from where one looks at the moon," has for over 160 years been a guardian of Japanese ethics, tradition, and aesthetics, especially as reflected in matcha and nori making and consumption.
At the store, which is next to Kabukiza Theater, the main stage for traditional Japanese theatrical form Kabuki, you can enjoy tea and traditional sweets while looking out to a zen garden, explains Yusuke Ando and Mai Matsuzaki from the company. What's more, an hour-long, in-store tea making experience with a master is offered: participants learn how to make matcha and sencha (non-powdered green tea) within a traditional bamboo tea room, a space designed by renowned Japanese architect Kengo Kuma.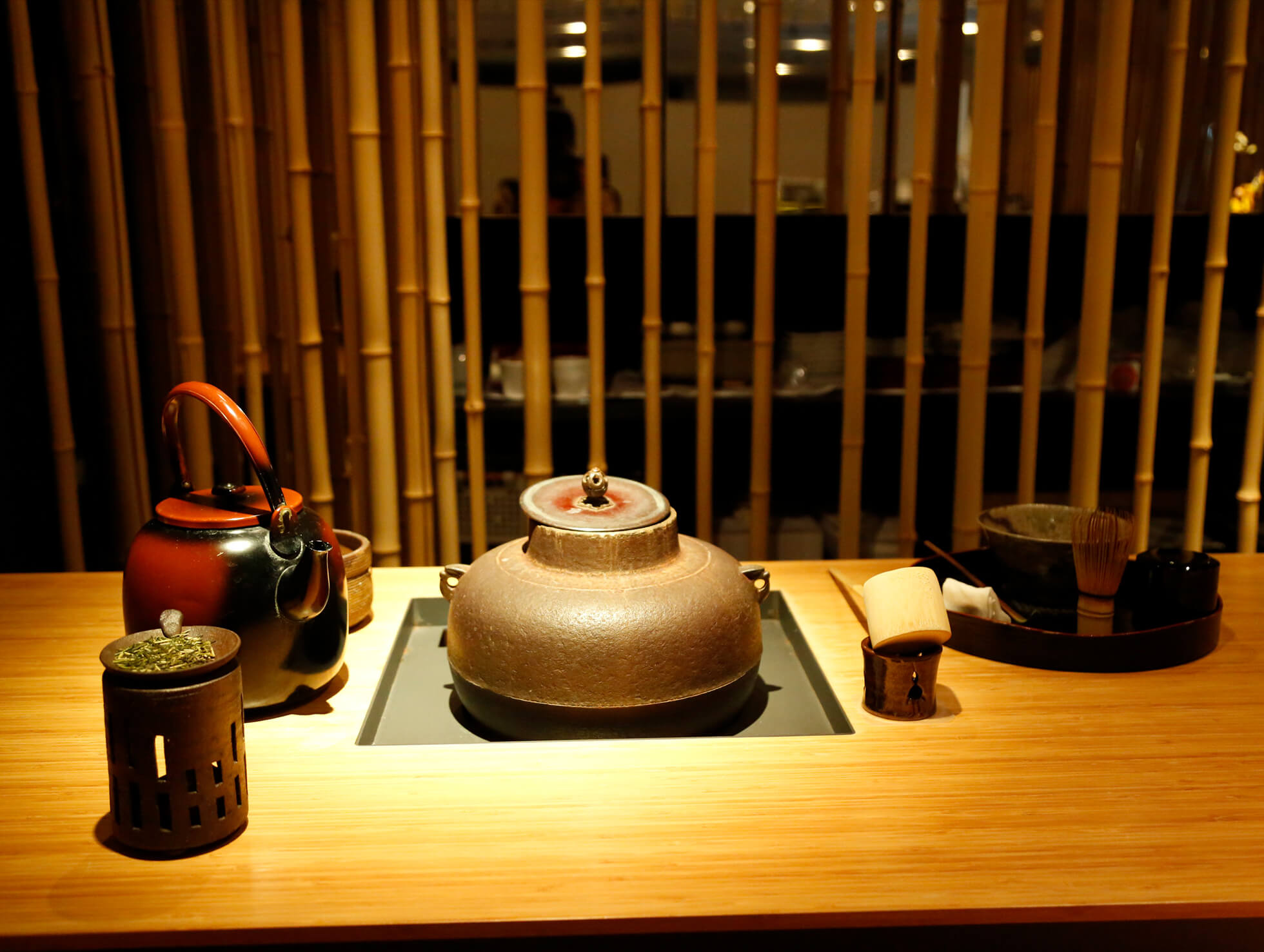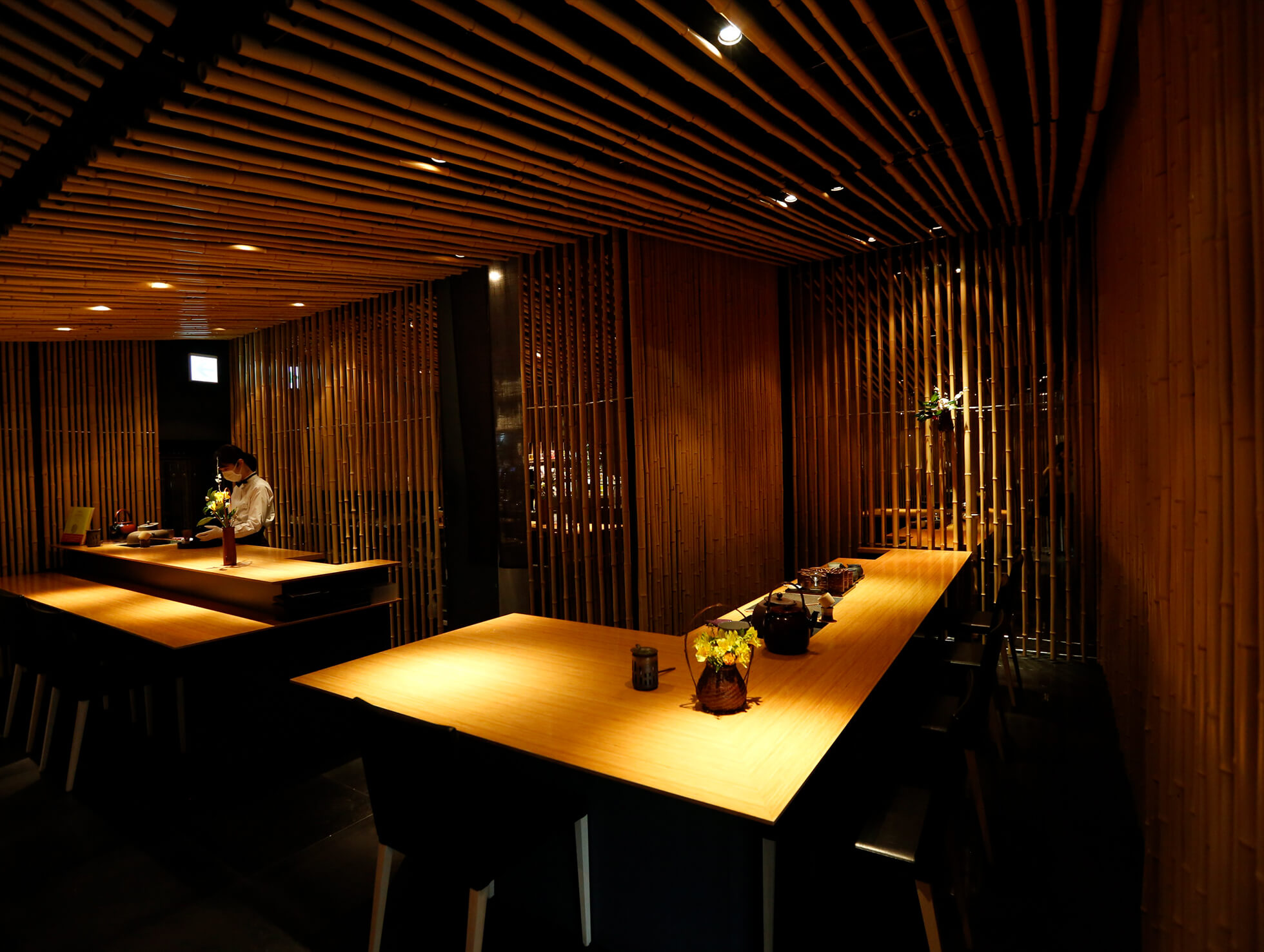 In addition to tea, Jugetsudo is famous for nori (seaweed) culture. Hikobei Tsushima, Jugetsudo's founder, pioneered the preservation and export of nori from Edo (Tokyo today) to Kyoto in white-iron boxes instead of ceramic boxes. Back then, nori was a luxury enjoyed by the aristocracy. Today, eating nori is commonplace in Japan, including as a wrap for dishes such as sushi or as a topping in soups, ramen (noodles), and more.
While drinking tea or eating nori-inspired dishes used to take the form of high-culture, it has also come to fulfil functions that are prosaic: enhancing health, uniting colleagues, friends or family, or merely creating an opportunity to refresh and philosophize.
Such has been the popularity of the Jugetsudo brand that the company opened stores in Tsukiji, Tokyo, in 2003; Paris, in 2008; and Portland, Oregon, in 2017; and that's in addition to the Ginza branch. For belisure travellers, Jugetsudo is the perfect opportunity to enjoy time-honoured Japanese traditions, including that of gift-giving after a business trip.

While storied stores like Edo-ya and Jugetsudo have continued to meet customer needs in special ways, they are connected by common values—omotenashi, the uniquely Japanese form of hospitality.
Omotenashi means you make good products honestly that people can use, Edo-ya's owner, Hamada the elder, explains. What's more, you're humble about your work, and see your customer as an equal.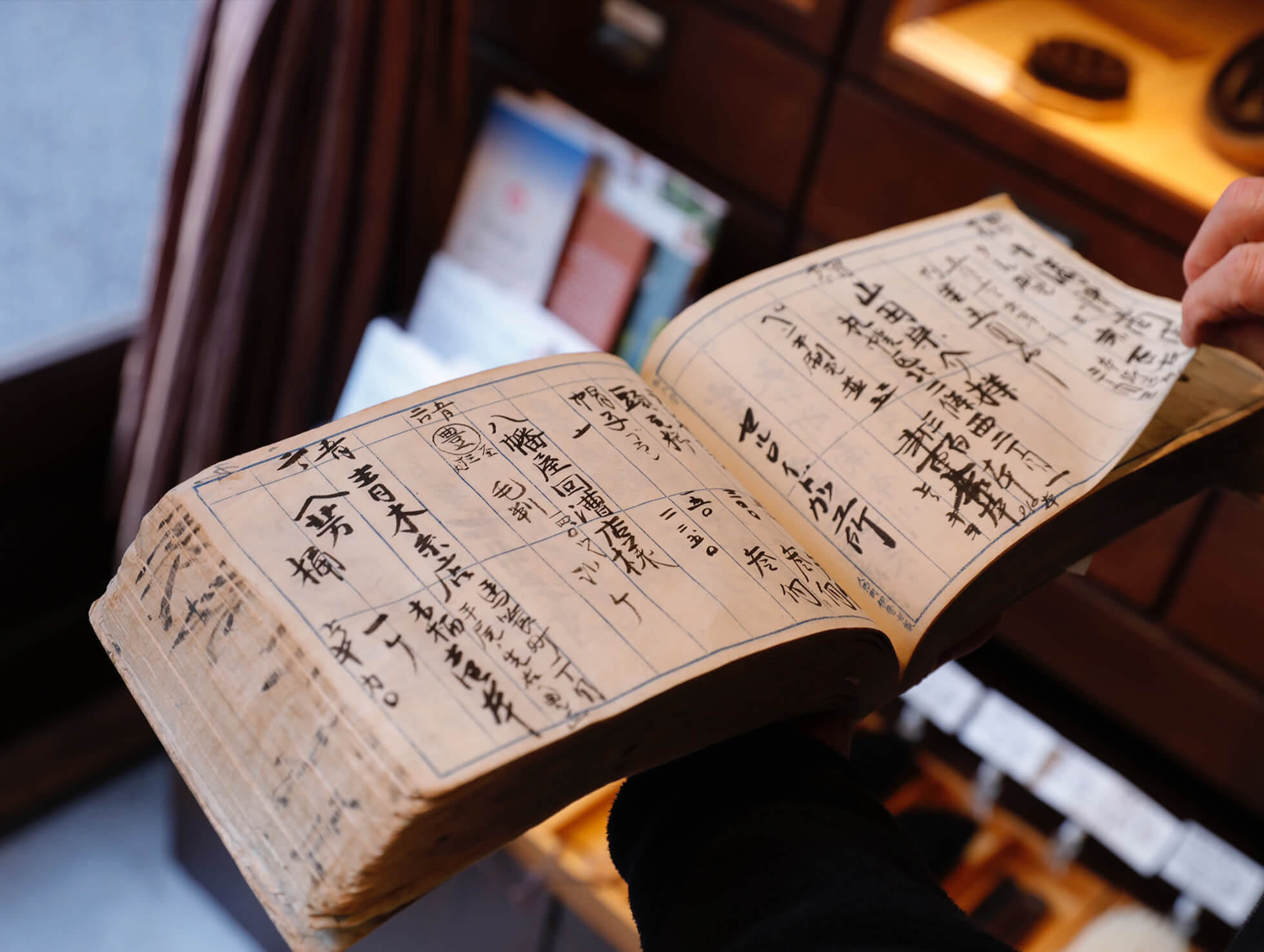 Ando and Matsuzaki share Hamada's sentiments, adding, omotenashi includes customers enjoying products according to their own tastes—and, for English speakers, in a language they understand. That's why Jugetsudo offers menus for nori– and matcha-based dishes and drinks in English, including cocktails, smoothies, sandwiches, and salads. Such customer care makes gifting tea or nori that much easier and enjoyable.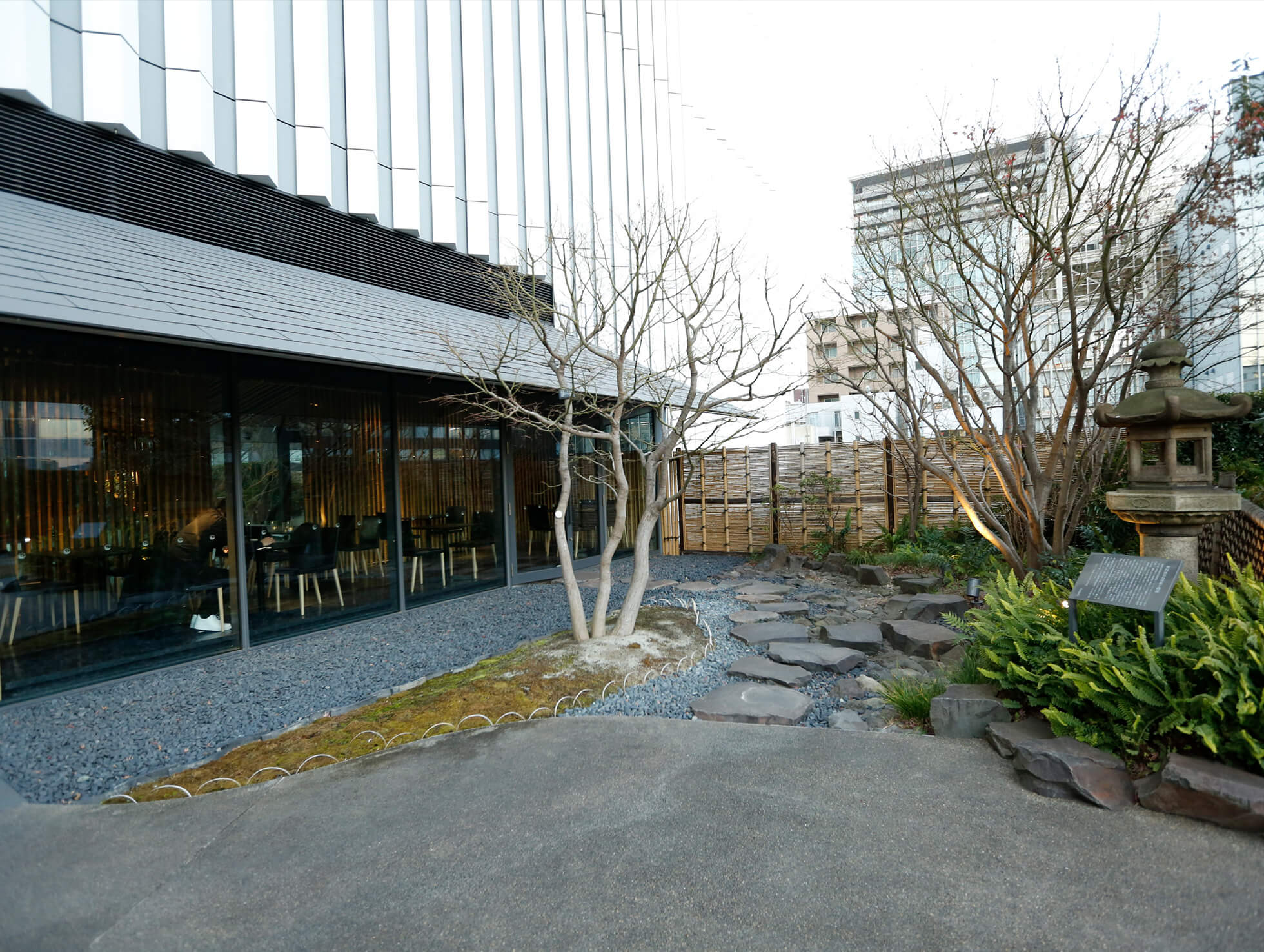 Since the COVID-19 pandemic, Jugetsudo and Edo-ya have had to navigate what has been an uncertain time. Edo-ya, like so many businesses, saw a dip in business from in-bound and domestic visitors. However, some of their product lines have enjoyed an ongoing waiting list—and requests for brushes from new industries, such as the semi-conductor industry, are increasing.
To mitigate against the pandemic, Jugetsudo has implemented in-house anti-Covid-19 health and safety measures, including installing sanitation stations and staff wearing masks, hand-gloves, and face shields where needed.
What's a good time to visit Jugetsudo? In the morning, especially as the sun rises and the first light floods the cafe, as well as in the early afternoon, Ando and Matsuzaki share. And Edo-ya? Hamada the elder and the younger are ready once again to welcome all comers.