Tokyo's Lush Green Spaces
and the Zen of "Bleisure"
When combining business and leisure into "bleisure," the secret lies in finding the best way to find balance between them. In Tokyo, Japan's fast-moving capital, this can mean finding time before, during or after work to relax in its many green spaces. Tokyo's myriad parks and gardens are gorgeous oases of peace, and include the serene Rikugien Gardens, a traditional Japanese garden, and Shinjuku Gyoen, a tranquil, western-influenced space located right next to Shinjuku Station.
Produced by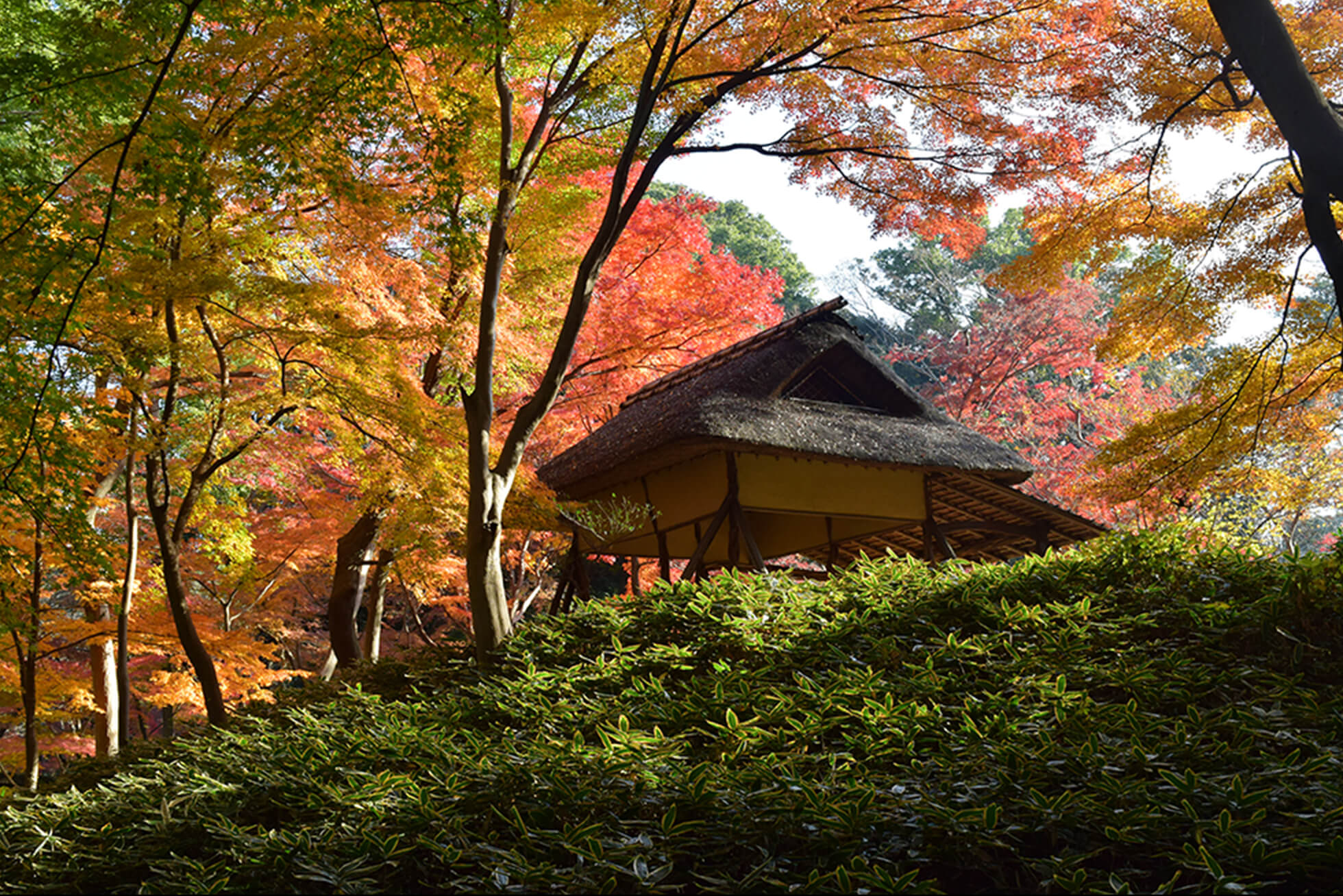 For bleisure travellers with a moment to spare, a visit to Rikugien Gardens, which is easily accessible on foot from Komagome Station, is relaxing and refreshing, and an excellent opportunity to appreciate nature and connect with locals.
Located in Bunkyo Ward, Rikugien Gardens is among the most popular scenic spots in Tokyo. Built in the early 1700s, the garden is known for its network of walking paths, man-made hills, and large central pond. With each step in the garden, the scenery changes slightly, opening up new views for the visitor.In springtime, people visit there, many of them drawn in by its myriad flowering shrubs and trees, especially the shidare-zakura, or weeping cherry trees, the largest being 20 meters wide by 15 meters tall. From mid-April to early May, the garden is ablaze in 1,000 Azaleas of 30 species.
Autumn in Rikugien Gardens is equally wondrous. Between late November and early December, people flock there to enjoy kouyou, when the leaves of maple trees are aflame in with shades of crimson, much of which shimmers in the central pond.
But there's more. The garden, which is 87,809 meters squared, is a haven for fauna: from kingfishers to goshawks to little egrets. Gray herons, white wagtails and yellow wagtails, as well as ducks and swallows also call Rikugien Gardens home.

Rikugien Gardens is rich not just in flora and fauna but history, too. Built in the reign of the 5th Tokugawa Shogun, the garden, with a name that literally means "six poems garden," reproduces scenes from 88 waka poetry, classical Japanese literature, in the form of stone pillars erected on scenic spots. It's little wonder the garden depicts aspects of Edo era (1603 to 1868) strolling parks.
In 1878, the grounds on which the garden stands were purchased by industrialist and financier Yataro Iwasaki, the founder of the Mitsubishi company. Rikugien Gardens remained in the Iwasaki family as a private villa, called Komagome Bettei, until 1938, when it was bequeathed by Hisaya Iwasaki (the third president of Mitsubishi) to Tokyo. Soon thereafter, in 1945, it was designated meisho, a place of scenic beauty.
As in the past, visitors today come to Rikugien Gardens as much to enjoy its natural beauty and cultural attributes as to refresh and relax. Located in the Tsukiyama-Sensui strolling garden, Fukiage-no Chaya, a traditional cafe, for example, is a popular refreshment spot. There, one can sit by the water's edge and enjoy matcha (green tea), sweets, or amazake (sweet rice wine)—arguably a satisfying way to end a busy work week.

Visitors to Shinjuku, a major commercial and administration ward, will be equally pleasantly surprised to discover that, just around the corner from Shinjuku Station, is the Edo era-originated garden, the Shinjuku Gyoen National Garden.
In springtime, around 1,000 cherry trees of 65 varieties bloom in the garden. People gather there to enjoy sakura season, when cherry blossoms are in full bloom and the neatly cropped grass is lush and full of color—an ideal setting for a picnic. Indeed, over 10,000 trees have been planted in the garden, providing ample opportunities to enjoy nature in the city.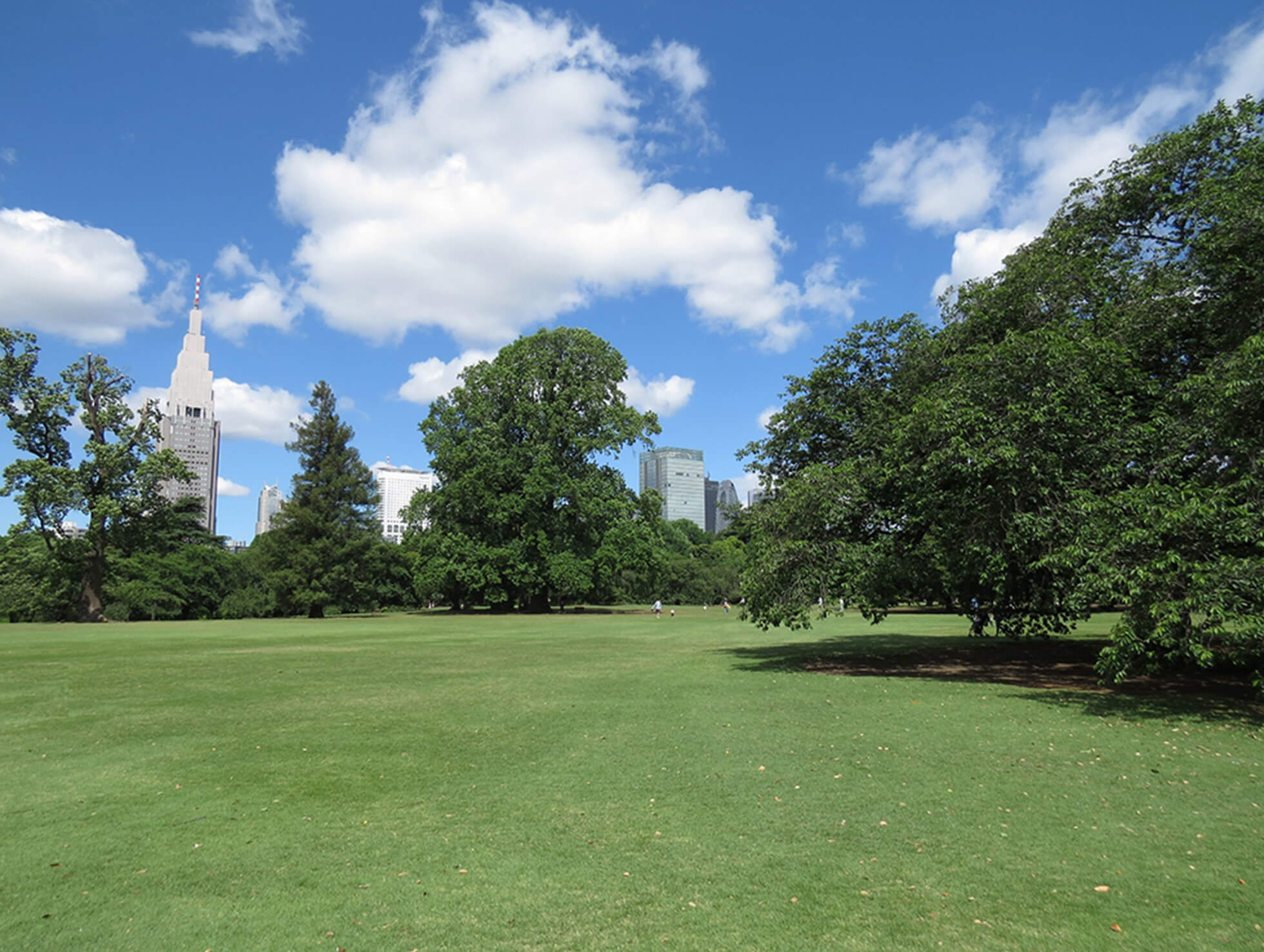 When summer arrives and temperatures rise, Shinjuku Gyoen, which encompasses an area of over 58 hectares (about 145 acres), becomes yet another refuge for over-heated urbanites seeking a momentary reprieve from the heat.
And as the traditional chrysanthemums and fall leaves make way for a winter wonderland marked by snow-capped landscapes, Shinjuku Gyoen becomes an ideal place to enjoy the changing of the seasons.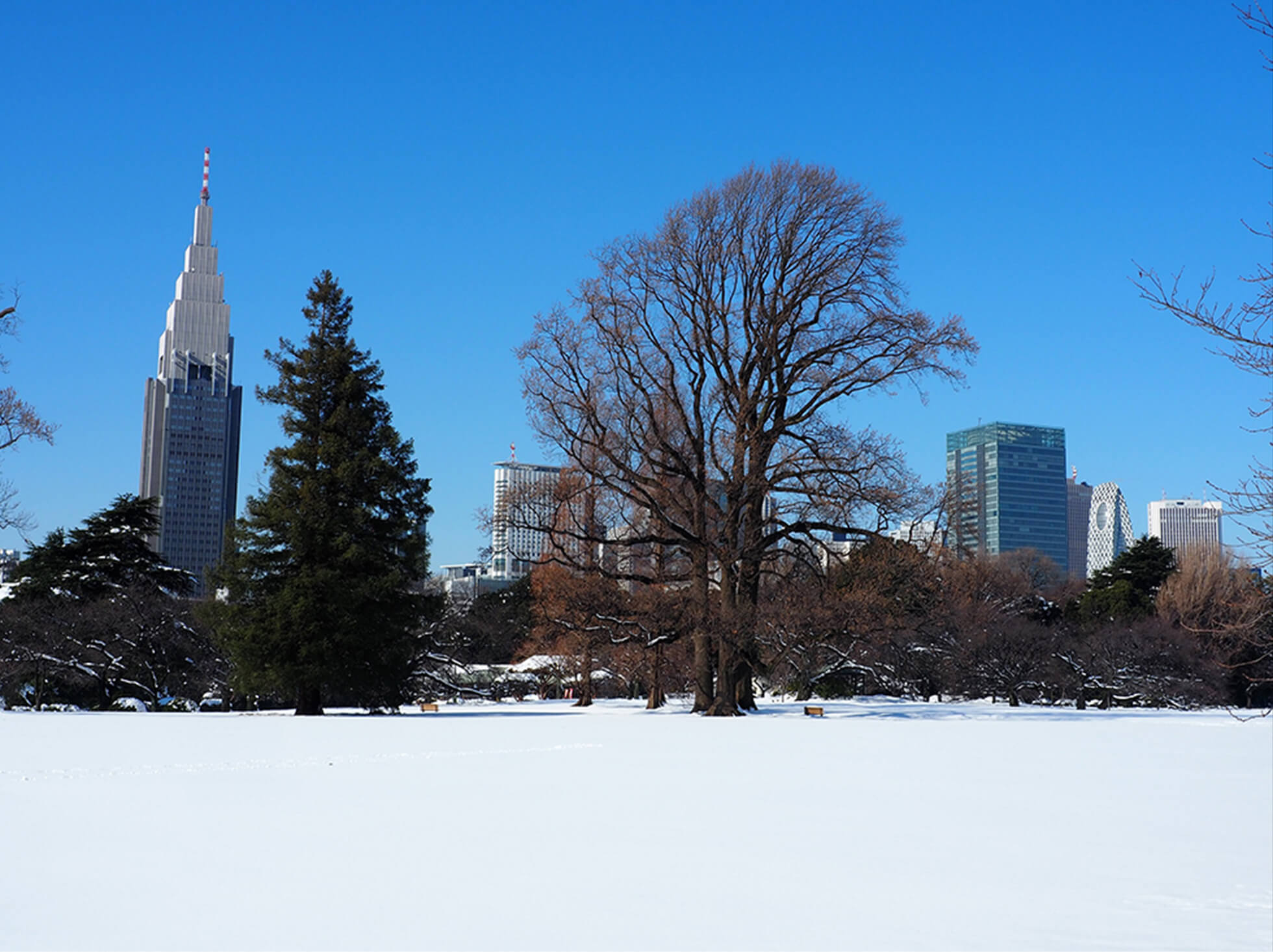 Shinjuku Gyoen itself has an illustrious history. It is said that the history of Shinjuku Gyoen began in 1590 with a daimyo residence granted to Naito Kiyonari, a loyal vassal of Shogun Tokugawa Ieyasu. Later, in 1872, the government established Naito Shinjuku Experimental Station to promote modern agriculture in Japan.
In 1879, it came under the purview of the Ministry of the Imperial Household and many imperial-related events were held at the garden, such as the imperial family's cherry-blossom viewing event from 1917, as well as a chrysanthemum exhibition from 1929.
Between 1906 and 1948, the Imperial Garden Shinjuku Gyoen came under the purview of the Imperial family.
Interestingly, the Kyu-Gokyu-Sho (Old Imperial Rest House), which was built in 1896, was a clubhouse for the imperial family after playing golf and other sports and, indeed, what is today the site of the Landscape Garden was, during the Taisho period (1912–1926), a nine-hole golf course.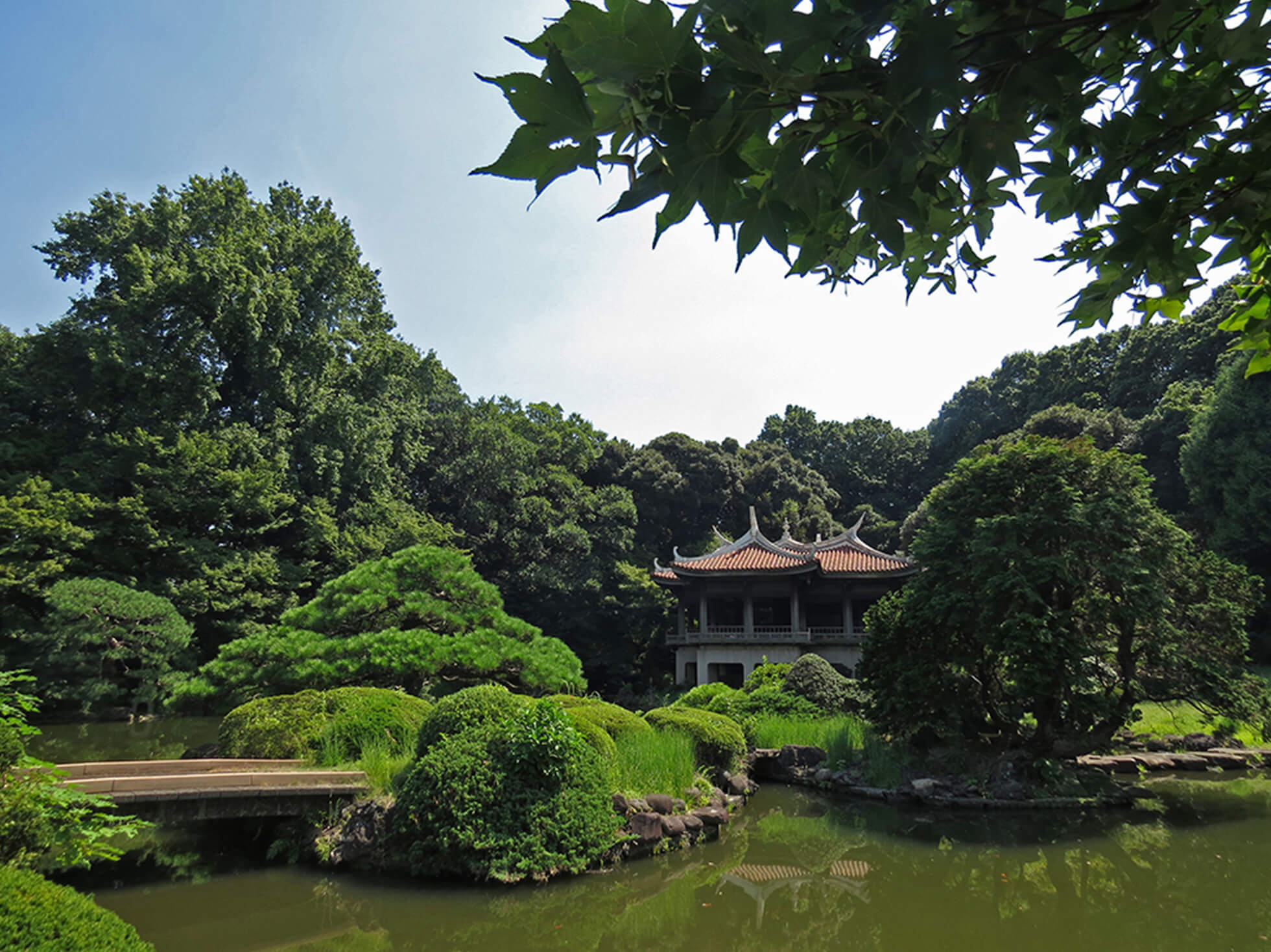 Today, Shinjuku Gyoen is representative of a modern, western-style garden of the Meiji era, blending three distinct styles: Formal garden, Landscape garden, and a Japanese traditional garden. In combination, they offer locals and visitors some of Tokyo's most-beloved cultural experiences and opportunities to enjoy the natural world in the middle of the city.
To prevent the spread of coronavirus infection, Shinjuku Gyoen may be partially or completely closed. Please check their website before visiting.